Experience HR1110XL Online Rack 10KVA 220V product, An efficient, continuous and durable power management solution
Rack Online HR11 UPS series with a capacity range of 1 – 10 kVA, uses a double conversion solution and applies full control technology by DSP. The single-phase UPS product series from 6 to 10kVA is applied advanced 3-level IGBT technology, helping to achieve high efficiency up to 95%. With high effective (kW=kVA) power in 2U size, HR11 is a good choice for computers, telecommunications equipment and other sensitive equipment.
Outstanding technical specifications of the device:
High efficiency, up to 95%
Intelligent charging management system, effectively improving the life time of battery
3-level IGBT technology, compatible with complicated load for high efficiency
LCD/LED display, monitoring all the operation status
Full protection for UPS: overvoltage, circuit short and over temperature, improving safety and reliability
Abundant interface: RS232,USB, SNMP, Intelligent Card
With many outstanding features and outstanding advantages, HR11 10kVA is suitable for both households and small and medium enterprises. Demands for telecommunications equipment, computers and grid-sensitive electrical equipment.
With a compact design of only about 19", the HR11 Rack online series saves space for the office. Relatively light weight of only about 20kg, convenient for transportation and relocation when needed, providing flexibility during operation.

The LCD + LED display shows many parameters, allowing continuous system operation and monitoring.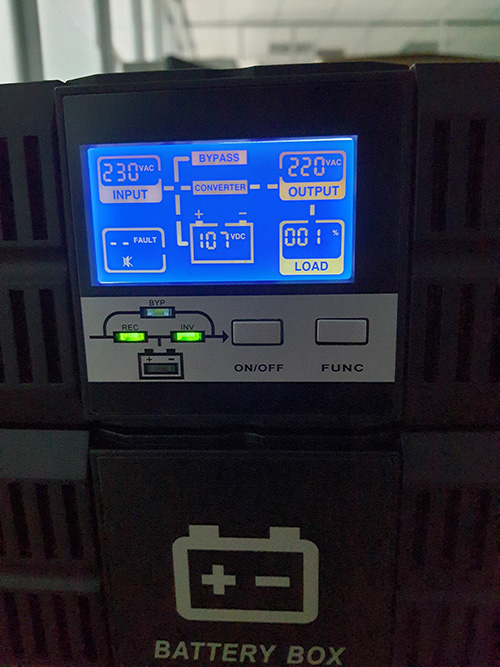 Input and output meet IEC standard. Extremely convenient and easy in the process of connecting input and output devices. Minimize dust ingress. Compatible with many jacks available on the market.
Multiple communication ports: RS232, USB, Dry contact or SNMP, allowing data transfer and connection to remote monitoring system.
3-level IGBT technology for up to 95% efficiency, improving safety and reliability.
Standard sine voltage output, high power factor, compatible with complicated load. Smart battery charge manager, helping to improve battery life.
Support connection of surge arresters for devices. Enhance system protection and safety features.
Use a removable battery system for a longer backup time. More flexibility in maintenance and servicing.