Highlights of INVT UPS
UPS product series are manufactured by INVT technology company with nearly 30 patents, integrated with the most advanced technologies in the field of automatic storage and control. With improvements in safety, flexibility and many other outstanding features, INVT UPS is the perfect choice for data centers, hospitals, banks, industrial factories, etc.
1. Highlights of INVT UPS
Diversity of products and diversity of capacity help meet all needs of customers
INVT UPS has a full range of small, medium and large capacities, from 1kVA to 500kVA. Currently, DAT launches 3 main product lines: Single Phase UPS, Modular Online UPS and 3:3 Standalone UPS; hundreds of product codes with a lot of different features. Therefore, INVT UPS can be applied to the entire system of machines and many separate needs of data centers, hospitals, banks, and businesses.
Flexible design
Modular design, compatible with 19" standard rack cabinet, convenient to be integrated with servers.
Module design: Up to 20 power modules in parallel online hot-swappable N+X redundancy configuration (the ability to connect in parallel and expand the capacity of the download device when the capacity needs to be increased).
High power density saves installation space.
Flexible configuration 3/3, 3/1 and 1/1.
High efficiency
DSP control technology.
3-phase integrated IGBT in one module, less failure points with higher performance and reliability.
Latest in-built 3 levels technology, PFC input control, ensuring high efficiency up to 97%
Comprehensive system protection
Multi protection features, protection from overheat with 8 sensors, overload, battery under voltage, fan failure, short circuit.
4 circuit breakers, ensure safety when something goes wrong.
Diverse features, integrated intelligent monitoring
UPS can be cold started on from the battery without utility.
Top and bottom cable entry connection are supported, more convenient for site installation.
System can intelligently shutdown some power modules to increase total load rate, achieving higher efficiency.
Independent charger for each module and intelligently control the whole charging process, prolong the life time of the battery.
Automatic fan speed adjustment.
Cooling air runs in isolated channel, keeping PCB free of dust.
Friendly interface
LCD touch screen, multi-information display for easy monitoring and operation.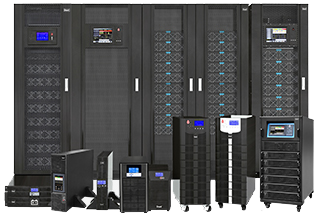 2. DAT – A reputable supplier of products and solutions in the field of UPS & Power Storage
Be consistent with the strategy of building a comprehensive value ecosystem, DAT has created smart and classy products, solutions and services for Vietnamese businesses over the past 15 years. UPS is a strategic product of DAT in the coming time to expand the ecosystem, meeting the critical power requirements of the information technology, commercial and industrial sectors.
Currently, DAT owns:
Large warehouse with a wide range of INVT UPS.
Reliable, performance-optimized solutions.
Provide services according to customer needs.
Outstanding warranty policy:

Single-phase online UPS shall be provided 3 years warranty for the UPS body and 2 years for the battery. During the warranty period, when the product is defective during operation, a new UPS product will be exchanged.

Flexible customer care and after-sales policy.
Experienced, fast support with 3 Service Centers.